A Ghost Story
Season:
2
Production code:
219
Written by:
Chris Nee
Directed by:
Nicholas Filippi
Broadcast Information
Disney Channel US Premiere:
June 16, 2007
"A Ghost Story" is the forty-seventh episode of American Dragon: Jake Long.
Summary
When Jake, Trixie and Spud become junior counselors at "Camp Mugwomp", Jake relives old camp game rivalries with Brad Morton. Meanwhile, a vengeful group of ghosts plan to take revenge on the living occupants of the camp by kidnapping the winners of an upcoming camp race.
Plot
Jake remembered a time at camp he failed to win a race when he was a kid due to a broken leg.
Jake, Spud, and Trixie all became councilors at camp with a couple of kids who were afraid of ghosts.
One night a diary book which belonged to an evil civil war ghost named Shackles Jack roses out, along with several other ghosts named Solitary Sam, Chain Gang Chuck, Peg Leg Pat, and two others unnamed. Their plan was to find human bodies they could possess as their own.
Spud saw Shackles Jack and his minions and that they were after a magical trophy-like cup which could grant ghosts new bodies if they had human captives. Shackles Jack captured Brad and his crew, but Jake fought the ghosts while Spud and Trixie were unable to touch them.
Jake managed to trap the ghosts and kids from the his cabin rescued Jake and the others.
Next morning, everyone was eating breakfast and Spud was stark naked because he had returned all the clothes he had been wearing to the Lost and Found.
After Brad teased Jake, Jake intentionally fixed it so that Brad was missing his clothes. Brad had to resort to wearing a towel when his father, Police Officer Morton, arrived in time time to see his son was breaking the law with Public Nudity. When he lost the towel, everyone laughed at Brad's expense.
Characters
Main Characters
Supporting Characters
Villains
Trivia
Notes
Gallery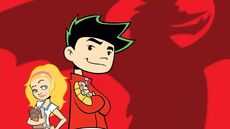 Click here to view the gallery.
References
Community content is available under
CC-BY-SA
unless otherwise noted.