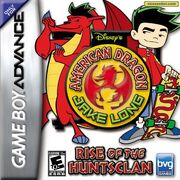 American Dragon: Rise of the Huntsclan is a video game for the Game Boy Advance. It was released on October 12, 2006.
Plot
Players must use kung-fu action and dragon fire to stop the evil Huntsman from destroying New York City. This fast-paced, action-adventure game has more than 20 levels with battles at every turn. The game also features a flying wireless mode for up to four players.
Product Description
"Dragon up" in Disney s American Dragon: Jake Long Rise of the Huntsclan! Help Jake stop the Huntsman and their allies from gathering items needed for a revival ritual that could empower them to destroy New York City in this fast-paced action-adventure game! Encounter sub-human creatures at every turn on your quest to conquer the enemy and save the day.
Reception
The game has a 4/5 from 1 review on Amazon.com.
Gallery