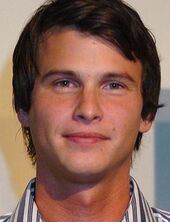 Charlie Finn, born on September 18th in 1975, is an American film and television actor. He was born in Milwaukee (Wisconsin) in the United States.
Life and career
Although Finn was born in Milwaukee, he was raised for most of his life in Lake Bluff (Illinois) where he attended Lake Forest High School. He later enrolled at Southern Methodist University back in Dallas (Texas) and majored in English.
Finn's acting career began in 1999 when he played the role of Corbin Davis in the TV show Sports Night. In total, he has played in nearly 30 TV series and movies combined in his entire career.
List of American Dragon: Jake Long Roles
Finn is probably best known for his work in the American Dragon: Jake Long cartoon where he voices one single character in the entire series. He is the voice of Spud (also known as Arthur P. Supdinski), one of the three main characters of the show. Finn's voice is heard in 47 episodes out of 53 total: 19 of them from Season 1 and 28 of them from Season 2.
Finn also voices Spud in "Morpholomew", a crossover episode between American Dragon: Jake Long and Lilo & Stitch: The Series.
Other Acting Roles
Finn has co-starred in many different sitcoms since the beginning of his career, notably the Life on a Stick series as well as Help Me Help You. He has also appeared in many movies, including Psycho Beach Party, Rolling Kansas, The Dukes of Hazzard and Gone, But Not Forgotten, as well as Super Troopers.
Trivia