Jurassic World: Dominion Dominates Fandom Wikis - The Loop
Play Sound
Courtney

Character Statistics
Gender:
Female
Age Group:
14/15
Date of Birth:
August or September 1989
Hair and Eye Color:
Brunette
Black
Created By:
Jeff Goode
Occupation:
High School Student
Relationships
Mother:
Unnamed Mother
Father:
Unnamed Father
Friends:
Rose
Jake Long (possibly)
Brad Morton
Production Info
Portrayed by:
Kittie[1][2]
First Appearance:
Old School Training
Last Appearance:
Ring Around the Dragon
Courtney[3][4] is Rose's best friend and one of the tallest girls in school.
Physical Appearance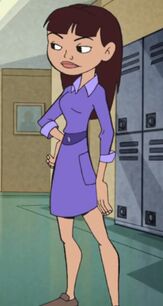 Courtney is a very tall and slender young girl with color peach skin, long brown hair, and blunt fringes. She appears to be the tallest girl in school, about half a head taller than Rose. She is always seen wearing a soft purple collared shirt dress that ends mid-thigh, matching skirt connected with a left-side of her pocket matched-up ended around her wrist sleeves. Purple Shirt and matching skirt become her dress along with a long belt in purple, also wears brown shoes without socks, and any color panties she wears, knowing that she might would've worn ballerina socks.
Personality
Courtney is a friendly student that seems to get along well with other girls[5]. However, she seems to have issues with boys, especially the handsome player kind (as seen from her first reaction when Jake, disguised as Jaren MacArthur, attempts to start a conversation with a flirty remark[6]. In the opening in the episode she was in the background and Jake, Luong Lao Shi, and Fu Dog were walking passed her while Jake, Lao Shi, and Fu Dog were headed to isle of Draco[7]. She and her friend Rose were drinking hot coffee at the schools' ski trip[8]. She was in the background talking with the black guy when the subway train the gremlins wreck havoc[9]. Courtney was dressed up in her cat costume invited to Jake's Halloween party[10]. She and Brad Morton were walking out of school when Jake bumped into them, and then laughing[11]. Then she appears in the same episode when she was in ringside Cheering for Jake known as "Dragonfire" when he defeated Hobie the Giant for the K.W.E.L. Championship.
Personal Relationship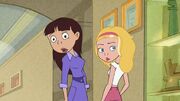 She and new Middle School student Rose have a better close relationship and seem to get along as well. Sometime she started to always have problems and trouble with the boys, and started begin a comment on a Teen Pop Sensation Jaren MacArthur. Sometimes when Rose isn't around with her, and the other Girls, when she's busy with the Huntsman, and the Huntsclan when she changes into Huntsgirl.
Courtney wasn't around with Rose, she's also to be getting associated with Millard Fillmore Middle School's starting football star Quaterback Jock, and School Bully Brad Morton. When walking out of school after the bell rings when Brad and the girls was walking outside of school and having a conversation and Jake bumping into him and reading his parent's notes that left it on his skateboard then embarrased him.
Age by Season
Season One: 15
Episode Appearances
Season One
Quotes
(about Jaren MacArthur) "Yeah, he is pretty cute."
"I am so bummed that you can't go to the concert tonight."
(talking to Reggie the Brownie) "Are you, like, animatronic?"
Trivia
She first appears in the premiere episode[5] and returns in four more episodes[6][8][10][11], and only has minor roles.
Courtney speaks in the premiere episode and only has two lines in the entire series[6].
When Courtney speaks, she is usually heard off-screen, except for one episode[10].
Courtney is a fan of Jaren MacArthur[6].
In an animation error, Courtney's hair is raven several times and back to brunette[10].
Courtney bears a resemblance to Charley Davidson from Biker Mice From Mars.
She was created to give Rose someone to talk to outside of Jake's gang and the Huntsclan.
The producers meant to bring her back in season two had Rose stayed after "Homecoming" like they had planned. However it was asked for Rose to leave by Disney so Courtney had no probability of returning.[12]
Courtney is taller than Nona from The Weekenders.
She is sure is pure mature, cute young girl but likely most of her peers.
She has not reappeared in Season Two.
Gallery
References