American Dragon: Jake Long

Created by

Jeff Goode

# of Episodes

52

# of Seasons

2

Voiced By

Dante Bosco (Jake Long)

John DiMaggio (Fu Dog)

Keone Young (Jake's Grandfather)
Charlie Finn (Spud)
Miss Kittie (Trixie)
Amy Bruckner (Haley Long)
Jeff Bennet (Jake's Dad)


Paul Rugg (Professor Rottwood)

Running Time

30 Mins.

Note: While the episode numbers were the order supposedly aired by Disney Channel, the correct chronology of events in the series can be viewed on Jeff Goode's official website for American Dragon: Jake Long. This is one of the reasons in season 2, the episode "Switcheroo" has Jake claiming him and Rose "were kinda together" and now were "kinda broken up". As this statement is rather confusing due to the fact that the last episode Rose and Jake were together was "Fools' Gold" and the previous episode was "Dreamscape" where there were no suggestions depicting a breakup between the couple. The actual breakup happens during the episode "The Love Cruise" which is portrayed as the episode following "Switcheroo" which is why this particular order of episodes is rather misleading.
Series overview
Season
Episodes
Season premiere
Season finale
Season 1
21
American TV Version

January 21, 2005

Canadian TV Version

March 19, 2005

American TV Version

January 29, 2006

Canadian TV Version

May 28, 2005

Season 2
31
June 10, 2006
September 1, 2007
Crossover
1
July 1, 2005
July 1, 2005
Episode list
Season 1: 2005 Astral Media Family Channel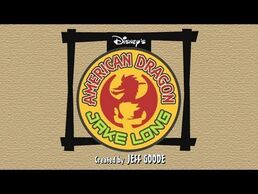 No.

#
Title
American TV Version

Disney Channel Original

Canadian TV Version Family Channel Astral Media Disney Original
1
1
"Old School Training"
January 21, 2005
March 19, 2005
2
2
"Dragon's Breath"
January 22, 2005
March 26, 2005
3
3
"The Talented Mr. Long"
January 28, 2005
April 3, 2005
4
4
"Professor Rotwood's Thesis"
February 25, 2005
April 9, 2005
5
5
"Shapeshifter"
May 13, 2005
March 20, 2005
6
6
"Adventures in Troll Sitting" / "Fu Dog Takes a Walk"
February 18, 2005
March 27, 2005
7
7
"The Legend of Dragon Tooth"
February 4, 2005
April 2, 2005
8
8
"The Egg" / "The Heist"
March 25, 2005
April 10, 2005
9
9
"Dragon Summit"
April 1, 2005
April 23, 2005
10
10
"Body Guard Duty"
April 29, 2005
April 17, 2005
11
11
"Act 4, Scene 15"
February 11, 2005
April 16, 2005
12
12
"The Ski Trip"
May 27, 2005
May 7, 2005
13
13
"The Long Weekend"
July 1, 2005
April 24, 2005
14
14
"Eye of the Beholder"
July 30, 2005
May 1, 2005
15
15
"Jake Takes the Cake"
August, 26 2005
May 8, 2005
16
16
"Hong Kong Nights"
September 8, 2005
May 22, 2005
17
17
"Halloween Bash"
October 22, 2005
May 15, 2005
18
18
"Fu and Tell" / "Flight of the Unicorn"
November 3, 2005
April 30, 2005
19
19
"Keeping Shop"
January 6, 2006
May 21, 2005
20
20
"Ring Around the Dragon"
January 12, 2006
May 14, 2005
21
21
"The Hunted"
January 29, 2006
May 28, 2005
Season 2: 2006-2007
| | | | |
| --- | --- | --- | --- |
| No. | # | Title | Airdate |
| 1 | 21 | "Bring It On" | June 10, 2006 |
| 2 | 22 | "Half Baked" | June 24, 2006 |
| 3 | 23 | "The Academy" | July 1, 2006 |
| 4 | 24 | "The Doppelgänger Gang" | July 8, 2006 |
| 5 | 25 | "Something Fishy This Way Comes" | July 15, 2006 |
| 6 | 25 | "Breakout" | July 29, 2006 |
| 7 | 26 | "Family Business" | August 5, 2006 |
| 8 | 27 | "Hero of the Hourglass" | August 12, 2006 |
| 9 | 28 | "Dreamscape" | August 19, 2006 |
| 10 | 29 | "A Befuddled Mind" | September 9, 2006 |
| 11 | 30 | "Fool's Gold" | September 16, 2006 |
| 12 | 31 | "Feeding Frenzy" | September 23, 2006 |
| 13 | 32 | "Haley Gone Wild" | September 30, 2006 |
| 14 | 33 | "Supernatural Tuesday" | October 28, 2006 |
| 15 | 34 | "The Rotwood Files" | November 18, 2006 |
| 16 | 35 | "Hairy Christmas" | December 16, 2006 |
| 17 | 36 | "Switcheroo" | January 6, 2007 |
| 18 | 37 | "The Love Cruise" | February 3, 2007 |
| 19 | 37 | "Year of the Jake" | February 18, 2007 |
| 20 | 38 | "Homecoming" | March 10, 2007 |
| 21 | 39 | "Young at Heart" | March 24, 2007 |
| 22 | 40 | "Siren Says" | April 7, 2007 |
| 23 | 41 | "Shaggy Frog" | April 28, 2007 |
| 24 | 42 | "Nobody's Fu" | May 12, 2007 |
| 25 | 43 | "Magical Enemy Number One" | June 2, 2007 |
| 26 | 44 | "A Ghost Story" | June 16, 2007 |
| 27 | 45 | "Bite Father, Bite Son" | June 17, 2007 |
| 28 | 46 | "Game On" | July 1, 2007 |
| 29 | 47 | "Furious Jealousy" | July 7, 2007 |
| 30 | 48 | "Being Human" | August 4, 2007 |
| 31 | 49 | "The Hong Kong Longs" | September 1, 2007 |
Crossovers