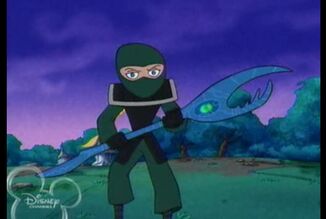 The
Huntstaff
is one most noticeable and used
weapons
of the
Huntsclan
. The staff is recognized by it's futuristic appearence and the plasma balls shooted from it.
Appearence
In Season One, the staff appeared to be made of metal with a green gem on it and sharp tooth-like points on its end, which formed its blade.
On Season Two, the staff was the union of Chinese weapons with futuristic look. It still possessed it's tooth-like points but it looked more like a spear.
Properties
The staff is capable of many things include:
Shoot plasma: it's primary attack. It's very powerful, capable of harm magical creatures.
Create a plasma shield: it's mostly used to block magical attacks.
Holograms: used for communication.
Teleport: a skillful properity, mostly used to escape.
Create a stream of water: somehow, the staff possess water on its interior.
List of users
Gallery
References
Community content is available under
CC-BY-SA
unless otherwise noted.