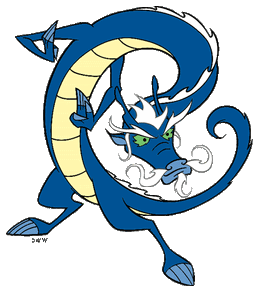 Luong Lao Shi (Grampa)
is a
fictional character
from
Disney
's
animated television series
American Dragon: Jake Long
. He is the maternal grandfather of the main character
Jake Long
and the father of
Susan Long
, and is a
Chinese dragon
. He is voiced by
Keone Young
.
He is a Dragon Master who teaches Jake the necessary skills in becoming a protector of magical creatures. He runs the Canal Street Electronics and in turn, uses this location as the main headquarters for all operations. His friend Fu Dog is his guardian who can create magical potions to assist in these missions. Lao's attempts at training Jake can, at times, cause more damage than help. However, Jake learns and puts into use the skills that are essential in becoming the American Dragon. Whenever angry he start's yelling in chinese.
Notes
The name, Luong Lao Shi, appears to be a Romanized translation of the Chinese words for "dragon" and "teacher" (老師). Though 老 can be used as a term of respect for an old, wise, and elder person, which would make Shi Jake's grandfather's given name.
In Season 1, he is often seen wearing sandals but sometimes goes barefoot. Now in Season 2, he seems to go barefoot even outdoors (see "Feeding Frenzy" and "Supernatural Tuesday"). This may reflect on his "foot problems" seen in "Old School Training".