Magical Powers

Users

Magical Creatures

Type

Maniupulation/Creation

Effects

May Vary
Powers are magical abilities which enable a user to do the same action over and over without limitations or restrictions. Powers are a biological part that predominately resides in the DNA and, because of that, they can be inherited by the children of the user. However, powers are known to skip generations[1].
Nature of Powers
Source
The source of powers can vary from magical creatures to others. Some creatures, such as leprechauns, get their powers from gold. When in possession of gold, leprechauns possess good luck[2]. Other creatures, such as dragons, get their powers from their chi energy. Actually dragons possess two types of chi energy reflective of their dual-natures: their human chi and dragon chi, which is what gives them their powers[3].
Some powers might be given by spells and potions, placed in artifacts such as the Eucrono Hourglass.
Stripping powers
Powers can be removed by groups of very powerful magical creatures such as the Dragon Council. The target will remain powerless for as long the Council or other beings want[3].
Power Type
Elemental Powers
Elemental powers are those magical abilities that are based on the classic elements and their derivatives. Elemental powers include the ability to breath fire, command water, shoot lightning bolts and even control non-classic elements such as breath ice, manipulate shadow and control plants.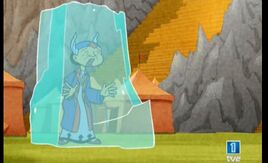 Molecular Powers
Molecular powers are those powers that alter the molecular composition of matter, enabling things and people to turn into other things and people. They are very useful powers and common only to very powerful magical creatures such as wizards and witches and Dragons.
Physical Abilities
Physical powers are magical abilities that has a physical transcendence. Physical powers include super-strength, super-agility and enhanced senses.
Mystical
Mystical powers are those powers that usually need concentration and focus to wield. Mystical powers tend to have a greater range. Mystical powers sometimes also require tools such as wands, amulets and magical ingredients but not always.
References
↑

The Heist
Community content is available under
CC-BY-SA
unless otherwise noted.