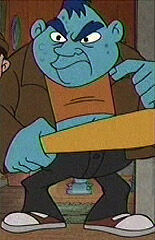 Morty the Troll[1] is a sewer troll who appears in Keeping Shop. He is a friend of Fu Dog's, yet was very tough on him as Fu had failed to pay back his money.
Quotes
Fu Dog: "Don't touch anything, don't open any drawers, and if a big toothless guy named Morty shows up saying 'Where's the money?!' Tell him I moved it in the machoo peetzoo, got it?"
Spud: "I'm sorry. I guess I wasn't paying attention. Oh, and I forgot to tell you, a friend of yours stopped by. Come on in, Morty."
Morty: "Where's the money?!"
Appearance
Season One
Trivia
Fu Dog said that Morty is toothless, but when he says, "Where's the money?", he has teeth.
He is voiced by Dee Bradley Baker[2]
Gallery
References