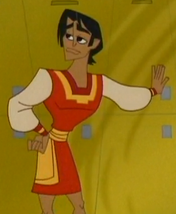 Rene Mujica is a voice actor mostly known through his work in the video game industry. As of today, he still occasionally works in the voice acting industry.
Life and career
Mujica's career started in 1997 when he played a small character called Bodallio in a TV movie titled Hollywood Confidential. He has also played a waiter in an episode of the Party of Five TV series in 1999. His voice-acting career began in 2000 when he voiced the character Marco in the Animorphs: Know the Secret video game. He has contributed to more than 15 titles (movies, TV series and video games combined) in his entire career.
List of American Dragon: Jake Long Roles
Mujica only voices a single character in the entire American Dragon: Jake Long. He gives his voice to Kyle Wilkins, a regular teenager who is also Trixie's love interest. He is only heard in a single episode titled "The Love Cruise" (in Season 2) and has only about five lines in the entire episode.
List of Other Animated Disney Roles
Aside from American Dragon: Jake Long, Mujica has voiced a few other characters from other Disney TV series as well as a theatrical movie.
Other Voice Acting Roles
Other than Disney, Mujica has also provided his voice to characters featured in Nickelodeon series, most notably Titanium Titan in El Tigre: The Adventures of Manny Rivera and Bold Ungataka in Tak & the Power of Juju. He has also done numerous voices in different video games, including Resident Evil 4, True Crime: New York City, Black and Call of Juarez: Bound in Blood.
Trivia
Rene Mujica has voiced two characters named Ramon in his career (in The Emperor's New School and Resident Evil 4);
Rene Mujica is often uncredited for his voice acting work depending on the presence the character he voiced had in the featured episode;
Rene Mujica's name is very close to René Mugica's, an Argentine actor, film director and screenwriter who lived between 1909 and 1998.