Ring Around the Dragon



Brad laughs at Jake

Season:
1
Production code:
117
Written by:
Laura McCreary
Directed by:
Christian Roman
Broadcast Information
Disney Channel US Premiere:
January 12, 2006
"Ring Around the Dragon" is the twentieth episode of the Disney Channel Original Series American Dragon: Jake Long.
Plot
Jake, Trixie and Spud were in the house, suddenly there was a knock on the door, and two giants were standing out there. The two giants told them about Hoggie so Jake entered in the K.E.W.L to defeat Hoggie to send him back to his his mom and dad.
Jakes was entered in many competitions, he defeated everyone, until he got to 2nd place and fight Hoggie to go back home.
It was a tough fight against him, but Jake still won by tying him up with a rope, But the guy was not there to congratulate him for winning and give him the belt, Hoggie told Jake that he told him about the village and that he wanted to pay them a visit, Fu Dog and Grandpa told him that he is going to make them wrestle, Hoggie got mad and went to save his mom and dad, when they get there Hoggie and Jake partner up to fight them and save his parents, they beat them and save his parents and Trixie ends up being paid fish for all her merchandise.
In Jakes home, his dad and mom woke up for to the smell of breakfast, Jake had made breakfast and then he left, Jakes mom noticed something on Jakes dads back, and Jakes dad noticed something on Jakes mom's back, they read it and it says "Thank You Mom and Dad, Love Jake".
Characters
Main Characters
Supporting Characters
Villains
Trivia
Notes
This was the Twentieth Episode of Season One.
Courtney makes her final appearance.
Gallery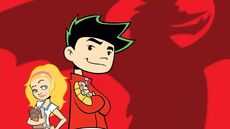 Click here to view the gallery.
References
Community content is available under
CC-BY-SA
unless otherwise noted.