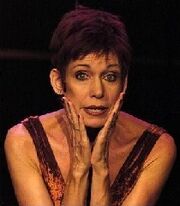 Suzanne Blakeslee (also spelled Susan or Susanne) is an American voice actress and stage actress born on January 27th in 1956. She was born in Washington DC in the United States and now lives in Los Angeles, California.
Life and career
Suzanne Blakeslee made her debut in show business in 1985 as a stage actress. She has participated in numerous plays, namely the Forbidden Broadway satirical revues, and began her TV career in 1995 by playing a very minor role in a sitcom titled Saved by the Bell. She began her voice-acting career in 1997 when she provided additional voices for the cartoon show Channel Umptee-3. She became renown in the voice acting industry for her work as the replacement for Cruella De Vil in the 101 Dalmatians franchise. She also succeeded Eleanor Audley for the roles of two of Disney's most famous villainess characters, Lady Tremaine of Cinderella and Maleficient of Sleeping Beauty.
List of American Dragon: Jake Long Roles
In the American Dragon: Jake Long cartoon, Blakeslee only plays two characters. Her voice is heard in a total of six episodes: three from Season 1 and three from Season 2. She plays two women who are the head of their educational establishment, Jake's principal and Haley's teacher.
Recurring Characters
One-Time Characters
List of Other Animated Disney Roles
Aside from American Dragon: Jake Long, Blakeslee voices many characters from the Disney company, most notably Maleficient in all her recent appearances in the video game series titled Kingdom Hearts.
Animated Series
Video Games
Other Voice Acting Roles
Blakeslee has given her voice to many other characters belonging to other companies, such as Cartoon Network, Nickelodeon and Dreamworks. She has provided additional voices for The Powerpuff Girls and voiced Dora Mattingly in Danny Phantom, the Evil Queen in Shrek the Third as well as Wanda and Mrs. Turner in The Fairly Odd Parents. She also did voices for many video game characters, most notably Ineptune in Spyro: A Hero's Tail, the Oracle of Athens and Gaia in the God of War franchise, the Big Witch in The Nightmare Before Christmas: Oogie's Revenge and Professor Julie Langford in Bioshock.
Blakeslee has also provided the voice of two characters in a Japanese animated TV series titled Vampire Princess Miyu (also known as Kyukestuki Miyu) in 1997.
Trivia