The Legend of Dragon Tooth
Season:
1
Production code:
105
Story by:
Chris Harmon

Chong Lee Vic Cook

Written by:
Catherine Lieuwen
Directed by:
Christian Roman
Broadcast Information
Disney Channel US Premiere:
February 4, 2005
Merchandise
DVD Releases:
it is not on dvd
iTunes Release:   buy now
"The Legend of Dragon Tooth" is the fourth episode of season one and the sixth episode overall.
Plot
Jake's little sister was about to lose her first tooth. But since it was a dragon tooth, it had mystical powers. The Tooth Fairy's assistant, Dr. Diente, had been biding his time until a dragon tooth came along. Seizing his opportunity, Diente captured the Tooth Fairy, grabbed her wand, and went after Haley. However, he did not figure on a mystical shield guarding the Long's house, as well as the American Dragon.
Meanwhile, Jake wanted to go to a concert. However, while he was getting ready, his mother came in and told him him that he had to babysit Haley, so now he couldn't go to the concert. Thanks to Spud and Trixie's arrival and assistance, Jake got to attend the concert. Spud and Trixie took care of Haley for 20 minutes, and then Jake came back and babysat Haley for another 20 minutes.
Eventually, when Jake's idol singer was on TV, Trixie and Spud could not babysit Haley because they wanted to watch as well. So now Jake took his sister to the concert, but the evil dentist kidnapped Haley and took her to the Tooth Fairy's lair. Haley lost her dragon tooth, and Diente now had it and started possessing magical powers. However, Jake grabbed a billboard-sized TV screen and smashed it on top of the dentist, defeating him. Jake then took Haley home and put her to bed, and Haley thanked Jake for missing the concert to save her.
Meanwhile, the Tooth Fairy (after barely escaping being crushed by a car smasher) arrives at Grandpa Lao Shi and Fu Dog's door and explains Diente's plan and Fu and Grandpa realize that Haley's in danger.
When Jake and his friends take Haley to the concert, Dr. Diente makes his move. Diente has his Tooth Minions corner Jake and Haley and while Jake fights the Tooth Minions, the evil dentist kidnaps Haley and took her to the Tooth Fairy's lair. Jake, Grandpa and the Tooth Fairy arrive to the rescue and in the ensuing battle, Haley's tooth flies out and lands in Diente's hand. Diente takes it and wraps his hand around it and places his hand into a pot of soil, causing the tooth's powers to activate and turn Diente into a giant white-furred monster.
Diente then goes on a rampage in New York and starts to steal the money the Tooth Fairy gave to children. Luckily, Jake was able to stop Diente with his dragon powers by taking a billboard-sized TV and smashing it on top of him, destroying him for good and leaving only his shattered glasses on the street.
Jake picks up Haley's tooth from the remains of Diente and they fly back home. Jake and Haley are sitting in the dismantled living room (the aftermath of Trixie and Spud's failed attempts to pull out Haley's tooth) when Susan and Jonathan arrive to see the huge mess. However, Haley quickly steps in and takes the blame for it, claiming that she tried to stop Jake from destroying the living room. However, Susan and Jonathan's anger quickly turns to excitement as they notice Haley's missing tooth and rush to get the camera.
That night, as Jake tucks Haley in bed and places the tooth under her pillow, she thanks Jake for ditching the concert to save her. Jake replies he's sure he didn't miss much. The scene then cuts to Trixie and Spud having a blast while riding in Shaniqua's limo as the episode ends.
Characters
Main Characters
Supporting Characters
Villains
Trivia
Notes
Gallery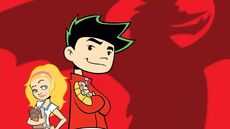 Click here to view the gallery.
References
Community content is available under
CC-BY-SA
unless otherwise noted.