The Talented Mr. Long
Season:
1
Production code:
107
Written by:
Laura McCreary
Storyboards by:
Wendy Grieb
Dave Knott
Directed by:
Christian Roman
Broadcast Information
Disney Channel US Premiere:
January 28, 2005
Merchandise
DVD Releases:
it is not on dvd
iTunes Release:   buy now
"The Talented Mr. Long" is the third episode of American Dragon: Jake Long.
Summary
Jake must compete in the school talent show with Fu Dog as his ventriloquist sidekick to keep Professor Rottwood from unleashing a horrific creature trapped inside an ancient chalice, even if it means competing against Spud.
Plot
Professor Rotwood tried to steal the trophy for the winner of the talent competition, which he claimed that it had an imprisoned ancient evil djinn. However, he was caught by the police. Trying to run away, Rotwood grabbed the wrong trophy and went downstairs. He filled the trophy with water and tried to convince the police that there is an ancient evil djinn, but since he got the wrong trophy, nothing happens.
The next day, everyone figured out that someone tried to steal the trophy, so now Jake tried to get the trophy before Professor Rotwood did. However, since the principal had the trophy hidden, Jake had to enter the talent show. Now he was forced to go against his friend Spud, and he didn't want to, but his Grandpa told him that he had to. But when Professor Rotwood entered a student in the talent show, Jake had more problems.
In the talent show, Spud and Jake were the only ones left. Spud went first and "unleashed" the ancient evil djinn from his hat. Jake had to transform into the American Dragon and fight the djinn, but Spud said the magical words and made the djinn disappear and become imprisoned again. Fu Dog said that they have finally found the magical words. Jake dropped out of the competition and made Spud win.
Outside, Spud and Jake apologized to each other, and Spud gave the trophy to Jake. In Grandpa's shop, they told Grandpa what happened, but Jake and Spud lost the trophy.
Characters
Main Characters
Supporting Characters
Villains
Trivia
Grandpa reveals that Fu Dog is 600 years old.
This episode debuts Principle Dolores Derceto.
This viewer learns a lot about Brad in this episode:
Brad is a football quarterback on the school's football team.
He has taken piano lessons for 12 years but is no good at it.
His last name is Morton.
He once dated a girl who was a Hog farmer.
This is the first episode where Jake and Brad form their rivalry as nemesis.
The incantation Abigo ere egi actum! are all Latin verbs that mean "to drive away; expel."
Notes
The Talented Mr. Long[1][2] is the third episode of season one and the seventh episode overall.
Gallery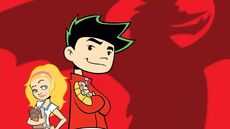 Click here to view the gallery.
References
Community content is available under
CC-BY-SA
unless otherwise noted.